Your shopping cart is empty!
Arbor Sequoia (MINT-22)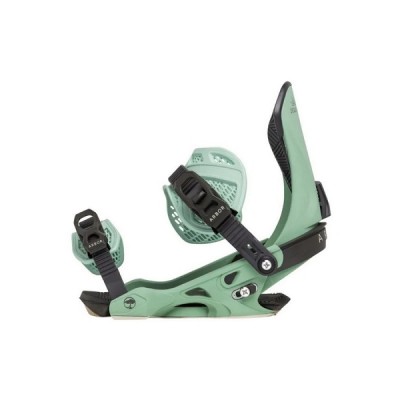 Brand:
Flux
Product Code:

BINDSo 0014

Availability:
In Stock
Price: $399.00

Arbor Sequoia (MINT-22)
Size: S/M
The 2022 Arbor Sequoia is an extremely versatile all-mountain binding designed specifically for women with all new womens highbacks, excellent shock absorption and Arbor's System X baseplate for amazing comfort and board control. The Sequoia features a re-designed highback, all new dual-injected ankle strap and lighter, stronger hardware.
FEATURES:
System X baseplate with 15% Fibreglass content - Efficiently transfers and evenly distributes your energy into the snowboard in an X shape out to the four cardinal points. The result is quicker, more effective control.
50A TPE Outsole - a dampening interface made from a special TPE Rubber, integrating with the System X design, sitting between the binding and your snowboard. The Outsole diffuses high–frequency chatter while providing rebound and cushion for high–impact landings
New Womens Specific Asymmetrical Highback - Low mounted asymmetrical highbacks with 5º pre-rotation, providing ergonomic feel and freedom of movement
New Dual-Injected Ankle Strap
New Womens Specific Adjustable Extruded Aluminium Heelcup - Highly durable extruded aluminium; designed to work with the 2x4 mini–disc for the amazing adjustability. Use the highback to centre the foot and the disk to fine-tune your stance width
Bow Strap Adjuster - Swings out of the way quickly and easily, making binding entry a simple, user-friendly experience
Universal 4x4 Disc
Tool less Forward Lean Adjustment
Cast Aluminium Buckles and Levers - These upgraded buckles offer clean, ultra reliable performance, long-term durability and a tighter, stronger click for unparalleled boot to binding connection
Lifetime Warranty on Baseplate
Flex Rating: 5 (1 = softest/forgiving and 10 = stiffest/responsive)