Your shopping cart is empty!
Deeluxe ID 7.1 TF (BLACK-19)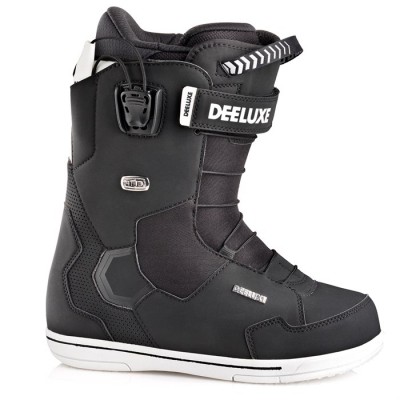 Brand:
Deeluxe
Product Code:

BOOTSo 0019

Availability:
In Stock
Price: $379.99

Deeluxe ID 7.1 TF (BLACK-19)
If you wanted the maximum mathematical response from your lower-limb-to-snow-sliding-device interface, you'd put on ski boots and click into some sticks. But you're snowboarding, where there's a magical level of flexibility that allows you to feel, to react, and to flow with the snow. Deeluxe ID 7.1 TF Snowboard Boots are what happens when that magic is put at the top of the desired features list. With a medium flex that's stiff enough to confidently point it down a rock-lined chute, yet soft enough to tweak some style into those backside airs, they're for snowboarders in search of fun all over the mountain. You know -- snowboarders!
Flex
Flex Rating 5 – (1 Soft - 10 Stiff)
TPS Shield – Available as an accessory, the TPS Shield strengthens the boot's tongue, providing a stiffer flex and additional support.
Fit
Pro Flex Construction – Designed for freestylers who demand premium performance, this construction creates a defined flex zone in the boot's joint area. This eliminates bulging and maximizes support, creating the perfect blend of flex and stability.
Liner
Performance Flex Liner – The Performance Flex liner is designed to offer premium performance and optimal support. The back provides stability while special L-shaped pads anchor the heel.
Lacing System
L2 Lacing – Two clasps and two handles—a pull on each handle secures your foot to powerfully and precisely transfer energy to your board.
Powerstrap – By securing the calf in place, the Powerstrap adds additional support to a boot's lacing system.
Sole
Skate Flex Sole – This freestyle sole offers enhanced board feel.
Slytech Impact Absorption
Additional Features
Backbone – This reinforced panel cradles the back of the boot to maximize durability and enhance response.
Thermo Block Insulating Insert – Like a space blanket for your feet, this reflective insert maximizes warmth.
Size: 13.5