Your shopping cart is empty!
Flux EM (White) - 22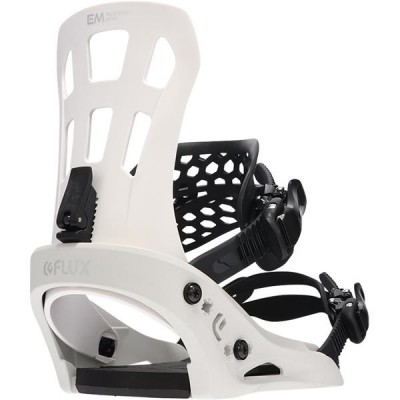 Brand:
Flux
Product Code:

BINDSo 0020

Availability:
In Stock
Price: $399.99

Flux EM (WHITE) - 22
Size: L


HIGHBACK
-Web
With a very light and soft feeling, you can ride as you want without stress.
-Super Tough Nylon
Medium flex material for all-round from low speed to high speed, from beginner to expert.
-Redux Lean Adjuster
Lighter due to smaller size. Easy to adjust with one action.
-Micro Adjuster
When moved forward by 1 memory, it tilts forward by about 2.5 degrees. Finer high back setting is possible.
BASEPLATE
-Disco
Easy-to-use middle flex structure with an appropriate installation area with the board and improved stability.
-Performance Blend
Medium flex that can be used most all-round. Compatible with all riding scenes.
-Ez Bed
The structure separated from the base plate makes it possible to easily change the toe positioning. 3-step adjustment function. Adjustment is possible by simply sliding after mounting on the board.
STRAP
-Honeycomb Strap Ver.2.0
The lightweight honeycomb shape is also excellent in shock absorption and provides a hold feeling that wraps around the ankle.
-Trigger Buckle
A relatively large new buckle that fits in your hand. Even riders who are not accustomed to ratchet operation can tighten it firmly. The trigger part is thickened to an angle that makes it easy to catch, and the strength against trampling is increased.
-FTM versa
Can be used with toes, instep and 2WAY according to your favorite riding. Suitable for all boots by using flexible material.
-UU Fit
The strap system that wraps from 360 ° realizes a natural hold feeling and uniform pressure.