Your shopping cart is empty!
Flow Fuse GT (BLACK) - 20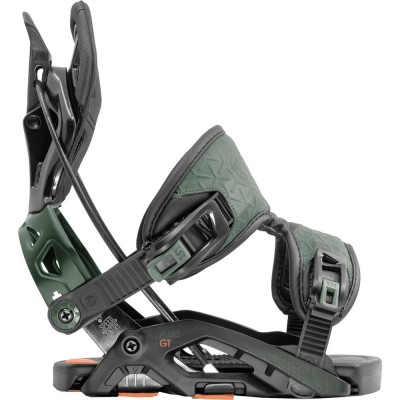 Brand:
Flow
Product Code:

BINDSo 0036

Availability:
In Stock
Flow Fuse GT (BLACK) - 20
Size L
The Flow Fuse-GT Snowboard binding a beefed up version of the regular Fuse. The Fuse GT comes with a aluminum heelcup / highback support for even more support and strength. This is the Fusion strap version of the Flow Fuse GT which uses flows classic fusion powerstrap strap instead of the hybrid system for a more supportive and responsive feel, thanks to the greater surface area of the strap. You can use the LSR ratchets to enter the binding as a 2 strap binding if you wish. The Fuse GT's also come with canted 2.5 degree footbeds for a more natural stance on your board and OC Kush insert in the heel for improved dampeneing. The GT hybrid is a very responsive binding for all mountain riding. All the fuse range also comes with the NASTY strap technology which is a simple mechanism which works amazingly! When you drop the reclining highback the nasty system moves the straps further forward offering a bigger space to put your foot in with ease!
KEY FEATURES
Glass-filled Nylon Rockered Baseplate
Aluminum Alloy Mod-Back
APEX.7 SupportPanel w/ Aluminum inlay
Active Strap Technology (N.A.S.T.Y)
Fusion Powerstrap
LSR Ratchets
2.5 Degree Canted Bank-Bed with OC-Kush
Multi-disk (3mm offset) for 4x4, 3HP and Channel-M6